Meet the Group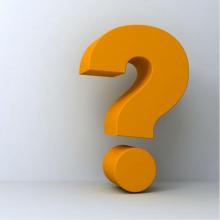 Wanted: Trumpet Lead
Trumpet, Flugelhorn, Piccolo Trumpet
We are seeking a skilled Christian musician to play lead trumpet and act as musical director. Desired background includes 1) a personal relationship with Jesus Christ and desire to serve Him through music 2) a background in trumpet performance, degree preferred 3) experience performing in small group ensembles 4) experience with classical, jazz, and popular (dixieland, patriotic, hymns, etc.) styles and 5) very helpful, but not required, a piccolo trumpet and flugalhorn.
Although we sometimes receive payment for our services, this is a volunteer position. If you have a heart to serve the Lord with your musical talents and want to share fun, worshipful musical experiences with like-minded musicians in a variety of venues and audiences, or if you just want more information, please send your contact and background information to info@sunnysideupbrass.com or call (719) 331-3256.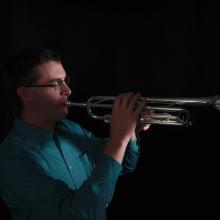 Caleb Thorne
Trumpet, Flugelhorn
Caleb Thorne has been a member of Sunnyside Up Brass since 2005. Caleb started learning music at a young age on piano and began to focus on the trumpet in the 4th grade.When not chasing after his 2 young kids, Caleb has been known to dabble in arranging and composition. In real life, Caleb runs a local web development company.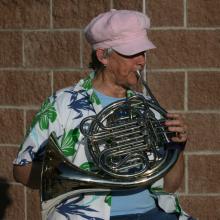 Nancy Nylander
French Horn
Nancy Nylander began as a string player, part of a very musical family in Claremont, California. She has played professionally for a total of 43+ years - in the Denver Symphony, the Pueblo Symphony, the Colorado Springs Philharmonic and the Chamber Orchestra of the Springs, among others. She is now about played out where symphonies are concerned, so is delighted to be able to explore other musical instruments (French Horn) and avenues, in smaller groups like Sunnyside Up Brass. Variety and new challenges keep her going, joyfully.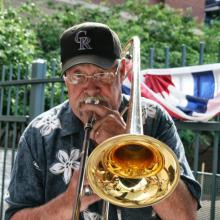 Gary Gossage
Tenor Trombone, Bass Trombone
Gary Gossage plays first trombone. In addition to playing with Sunnyside Up Brass, Gary is active in a local Big Band, is Principal trombone in the Pikes Peak Philharmonic Orchestra, and sometimes plays with alumni bands at football games for CU Boulder. When not playing trombone, Gary earns his living as a Christian Licensed Family Counselor and acts as the groups spiritual mentor. Gary has been with the group since 1993, and enjoys helping develop new young talented musicians.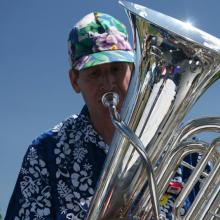 Pat Landry
Tuba
Pat Landry has played Tuba with us since 1991 and is the longest serving member of the group. Pat acts as the group's music librarian, curmudgeon, costumer, encouragement (some would say slave driver...), and brings the joke of the night to our practice sessions. He has been known to play trombone when needed, much to the discomfiture of the real trombonist in the group. Pat is a past member of the Taylor Brass Ensemble, King's Jazz Version Big Band, and Pikes Peak Philharmonic Orchestra. Pat performed ragtime piano in an earlier era, and is the group's snappy dresser.
Repertoire
Sunnyside Up Brass has an extensive repertoire including Traditional Hymns, Dixieland, Classical, Christmas, Swing, and Ragtime. Contact us to request your favorite song for your special occasion.
Just a Closer Walk with Thee
Put Your Hand In The Hand
I'll Be Home For Christmas
Contact
Please fill out and submit this form for booking or general information.